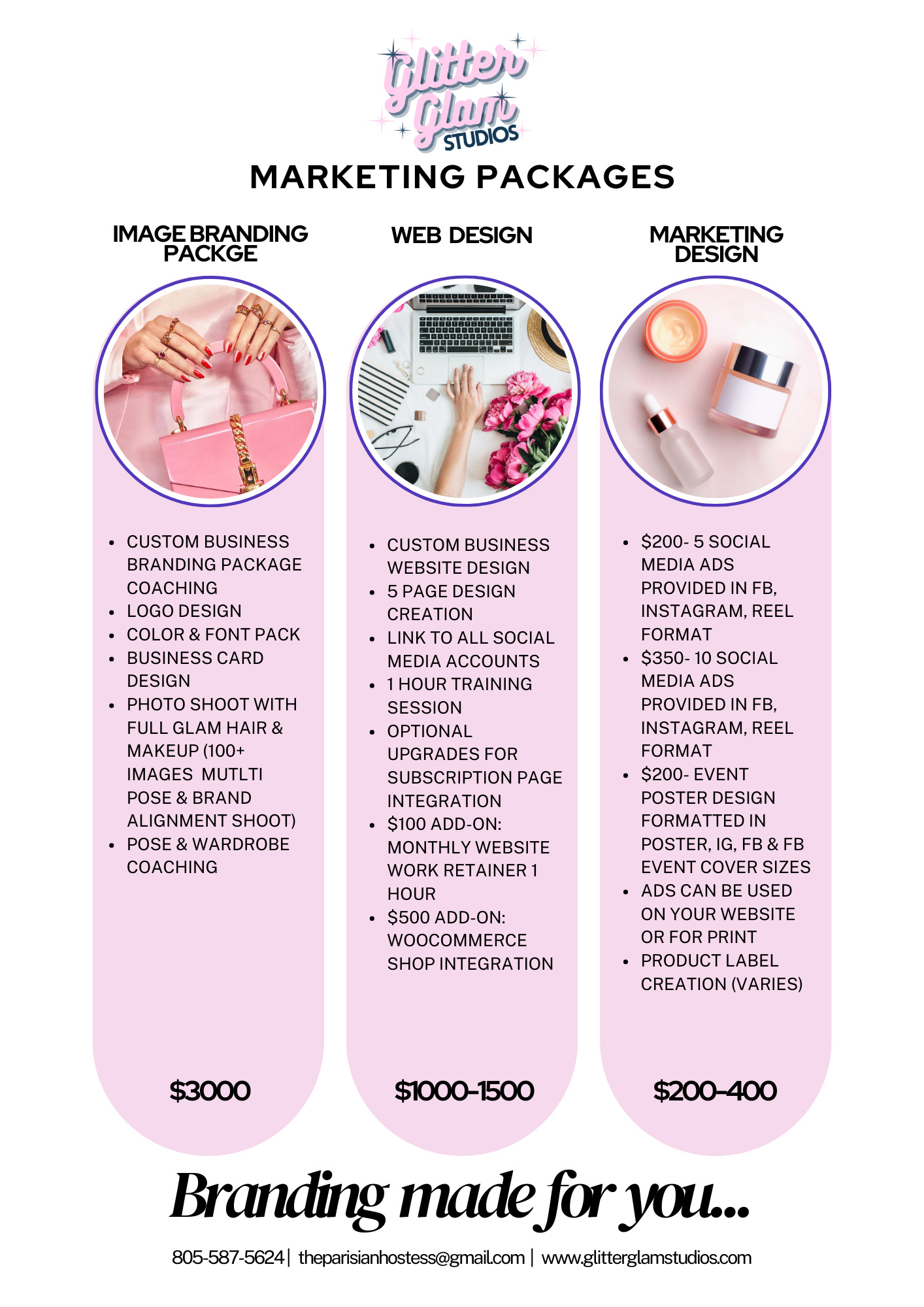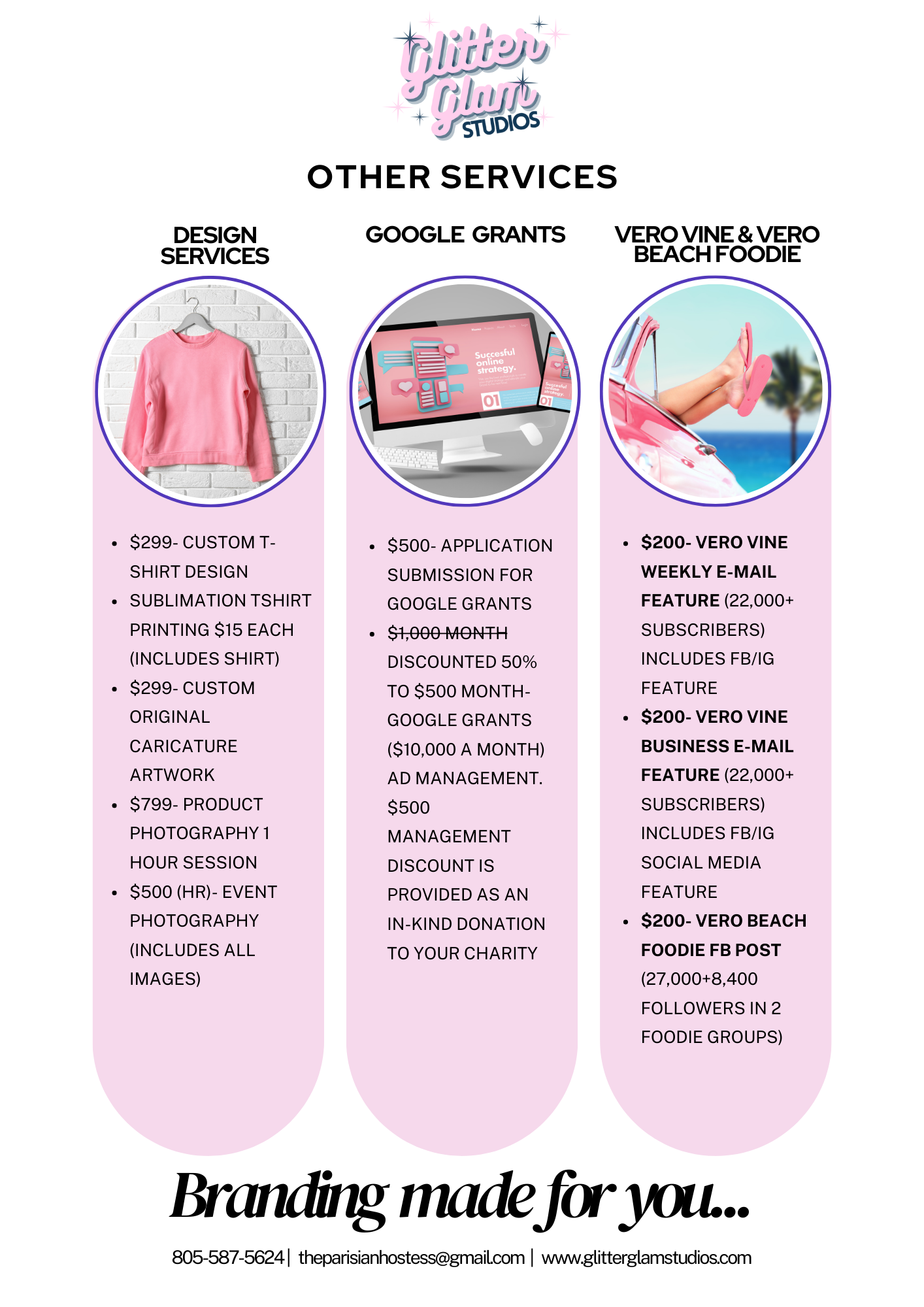 Every brand has a unique story waiting to be told. At Glitter Glam Studios, we're not just about capturing those stories—we're experts at refining and broadcasting them too. Whether you're aiming for striking visuals, comprehensive branding, or amplified outreach, we've tailored services that pave the way for your brand's standout success.
Branding made for you... Every service is meticulously crafted to enhance and amplify your brand's voice.
Our Exclusive Packages:
Image Branding Package - $3,000
Custom Business Branding Package Coaching: Deep-dive into the essence of your brand.
Logo Design: A unique symbol that represents your business.
Color & Font Pack: Personalized colors and fonts tailored for your brand identity.
Business Card Design: Stand out with a uniquely designed business card.
Photo Shoot with Full Glam Hair & Makeup: 100+ images ensuring you get the best shots for brand representation.
Pose & Wardrobe Coaching: Get guidance on the best poses and wardrobe choices.
Web Design Package - $1,000-$1,500
Custom Business Website Design: Tailored website design to resonate with your business.
5 Page Design Creation: Comprehensive design for five distinct pages.
Link to All Social Media Accounts: Connect seamlessly with your audience.
1 Hour Training Session: Understand your site better.
Optional Upgrades Subscription Page Integration.
Add-on: Monthly Website Work Retainer ($100 for 1 hour).
Add-on: WooCommerce Shop Integration ($500).
Marketing Design Package
Social Media Ads:

5 ads ($200) suitable for FB, Instagram, and Reel formats.
10 ads ($350) to increase your digital presence.

Event Poster Design ($200): Versatile designs for different platforms.
Product Label Creation: Tailored label designs, price varies.
Design Services
Custom T-Shirt Design ($299): Unique designs to represent your style or brand.
Sublimation T-Shirt Printing: Quality prints at $15 each, including the shirt.
Custom Original Caricature Artwork ($299): Personalized caricature illustrations.
Product Photography Session ($799 for 1 hour): Highlight your products with professional photos.
Event Photography ($500 per hour): Capture events in their full essence, including all images.
Google Grant Services
Application Submission ($500): Smooth application process for Google grants.
Ad Management for Google Grants ($1,000/month, discounted to $500/month): Manage the $10,000/month Google grant effectively. We offer a $500 management discount as an in-kind donation to your charity.
Vero Vine / Vero Beach Foodie Services
Vero Vine Weekly E-Mail Feature ($200): Engage with a broad audience of 22,000+ subscribers, also includes FB/IG features.
Vero Vine Business E-mail Feature ($200): Business spotlight for over 22,000 subscribers, inclusive of FB/IG feature.
Vero Beach Foodie FB Post ($200): Engage with a massive audience of 27,000+8,400 followers across two foodie groups.
Why Glitter Glam Studios?
Holistic Approach: We're not just photographers; we're branding connoisseurs.
Diverse Offerings: A one-stop solution for all your branding and marketing needs.
Customized Strategy: We understand that every brand is unique, and our solutions mirror that belief.
Unbeatable Value: Premier quality services at competitive prices to provide unparalleled ROI.
Let's craft a narrative that makes your brand unforgettable. Join hands with Glitter Glam Studios for a journey towards impeccable branding and marketing.